| | |
| --- | --- |
| | September 2, 2009 |

Dear all,

This month we celebrate 10 years of serving the Baan and ERP Ln community. On this occasion, we would like to share with you some of our news.

New Brochure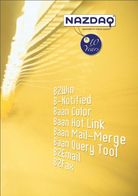 We have released a new 24 page full-color brochure with the latest information about our unique products.
The brochure includes an interview with Paloma Llompart, technical project manager at ULMA Construction in Spain, where she explains how her company utilizes multiple NAZDAQ tools. Additional success stories from Jaybeam and LVD STRIPPIT are highlighted. This special issue also includes numerous other testimonials from customers that are using NAZDAQ add-ons.
The brochure can be downloaded from our web site. Printed versions can be mailed upon request.
Upcoming Events
You can hear more about the NAZDAQ offering in one of the following events:


Chicago, USA
September 22 and 23


Solihull, UK
September 23


Hanover, Germnay
November 5
If you are a member of one of these user groups, we encourage you to attend a meeting. If you cannot attend, we will be more than happy to have a Webex demonstration for you. Just send us a small note.
New Reseller in the Middle East and Asia Pacific

NAZDAQ has selected Enterprise Software Agility (ESA) as Reseller aimed at targeting Infor Baan/ERP Ln customers in the Middle-East and other Regions. ESA was founded and is run by Eric Smith. Previous to ESA, Eric was the Regional Manager, Middle-East, since 1998 for Infor (previously Baan BV, Invensys, and SSA Global). Eric was also responsible for setting up Saudi Oracle in the 1990s
New Product Versions
If it has been a while since you checked our web site, you may wish to look at the release notes for the products you have. We just released Baan Mail-Merge 6.5 with 13 new features, including a new implementation manual for easier self deployment. B2Win 6.5 and B2Email Plus 6.5 are also worth looking at with some very interesting new features.



Customer Stories and Quotes
The NAZDAQ Story

As we celebrate 10 years of serving the Baan and ERP Ln customers, you can read the story of the NAZDAQ company in the new brochure, beginning from the happy old years of B2Win 2.0.
Check our site today for the latest about our tools
for Baan and ERP Ln. in www.nazdaq-it.com

If this was forwarded to you and you wish to subscribe to the
NAZDAQ newsletter, please send an email to info@nazdaq-it.com