| | |
| --- | --- |
| | September 8, 2010 |
Dear all,

As we embark on our 12th year, we are happy to introduce our latest news.

Now available: Complete Solution for PO Authorization and Distribution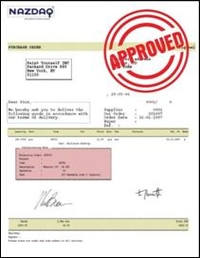 While you can manage your corporate files from within Baan and ERP Ln sessions, you can also send these files when you deliver your ERP documents to your business partners.
As an example, when you e-mail your purchase orders using
Baan Mail-Merge
, it will produce individual personalized e-mail messages for each order, and can possibly include selected attachments for all items in every order that are defined using
Baan Hot Link
.
If you need multiple signatures before e-mailing your purchase orders, this is also integrated in the same process with the
Purchase Order Approval Extension
.
New Product Versions

Baan Hot Link 7.0
is now open and allows other applications to access the links (for each entity). Automatic creation of sub-folders was also added -
Release Notes
The long awaited
Baan Mail-Merge 7.1
includes improved graphics, possibility for using PDF logo and background, multiple fonts and languages supported. This is in addition to integration with Document Management Systems like Baan Hot Link and ODM introduced in version 7.0.
Release Notes
.
Upcoming Events

NAZADAQ will participate again in the "Practice Day", organized by DbuG - The German Baan and ERP Ln user group to be held on November 3, 2010 in Würzburg.

We will be giving a presentation about "Fast data extraction and analysis from Infor Baan IV and Infor ERP Ln" featuring B2Win 6.6 and Baan Query Tool 2.6. In addition, we will be available in the booth area.

2011 Maintenance Renewal


As an annual process, NAZDAQ will be mailing out annual maintenance renewal invoices to all current customers. The mail out will start the first week of October. You may wish to inquire about our premium support and allow us to do more for you.



Customer Story – "Why did we wait so long for the NAZDAQ tools?"

During a UK and Ireland Baan and ERP Ln User Group meeting, Chris Turin from Ester prepared a session and outlined the benefits of the NAZDAQ tools:
Tight integration to Baan
Easy to use
Time saving
Fantastic value
Why did we wait so long?
To see Chris'
presentation
.
Check our site today for the latest about our tools
for Baan and ERP Ln. in www.nazdaq-it.com

If this was forwarded to you and you wish to subscribe to the
NAZDAQ newsletter, please send an email to info@nazdaq-it.com