---
Baan Color 7.0 Release Notes
Timeout Feature
Since bColor-Changer (Baan Color) runs a process in the background, and the system is therefore never idle, the timeout feature in Baan, and some third party applications, stops working. A built-in Baan Color timeout feature was added to overcome this limitation.
Improvement with System Files Management
Files needed for bHot-Link (Baan Hot Link) are now organized in subfolders for easier access and problem solving.
Compatibility with Baan Hot Link
As bColor-Changer (Baan Color) and bHot-Link (Baan Hot Link) use the same -robot-, the new version of bColor-Changer is now compatible with bHot-Link 7.0.
---
bColor-Changer 6.0 Release Notes
bColor Changer (Baan Color Changer) has been upgraded to work together with bHot-Link 6.0. Users of these two products should be using the same version number for both products.
---
bColor-Changer 5.1 Release Notes
Color Per Session
With this new version, a different color can be defined per session, in addition to the color per company as seen in the following example:
The color for company 550 is defined as red top bar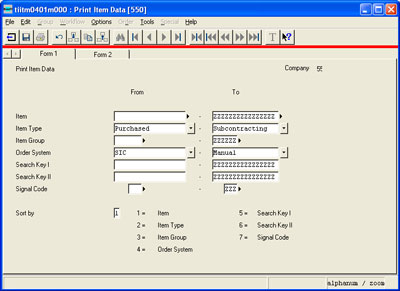 In addition to the red top bar defined for company 550, a green right and left bars are added for "Print Purchase Orders" session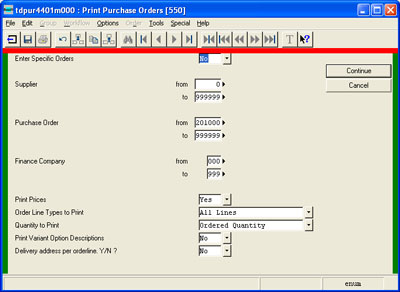 ---
bColor-Changer 5.0 Release Notes
The server version of Baan Color is released. Installed at the Baan server and runs using BMS data or user data.
A bar is colored instead of coloring the whole Baan screen.
Integration with Baan Hot Link allows attaching GIF files to Baan screens – without touching the source or the form.