This solution is quick to install. Load few Baan or ERP Ln sessions and all users that have permission will have access to the database for writing their own queries. A run only session is available for users that should run queries created by others – but not make their own.
The solution includes a friendly and intuitive human interface written in Baan 3GL.
Tables: With hundreds of tables, you can search for the table name or the table description. You can create queries with multiple tables.
Fields: With confusing field names, you can search for the field name or field description. Supports Baan special fields, such as enumerated fields, arrays and text fields
Print Form: Queries automatically generate a print form with all fields in the query. You can remove fields from the form and keep the ones you want. You can link to zoom sessions and have certain field ranges saved – therefore making queries that behave like Baan native reports.
Output Report: Output report is automatically generated from the query with all fields and can be customized by removing fields. Format of remaining fields in report output can be changed from the default. Formula columns can be added. Output can be sorted based on multiple fields. The limitation of 255 characters, like standard Baan reports, can be bypassed.
Output Device: Queries can be run to any device and you can pre-set your output device – for automation of the query. You can automatically generate the report output in Excel format and Email it – also in a job.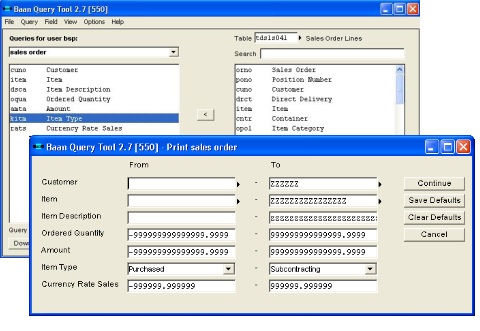 To see NAZDAQ's product for Querying Baan and Infor ERP LN Database, please visit B2Data – B2Win Suite