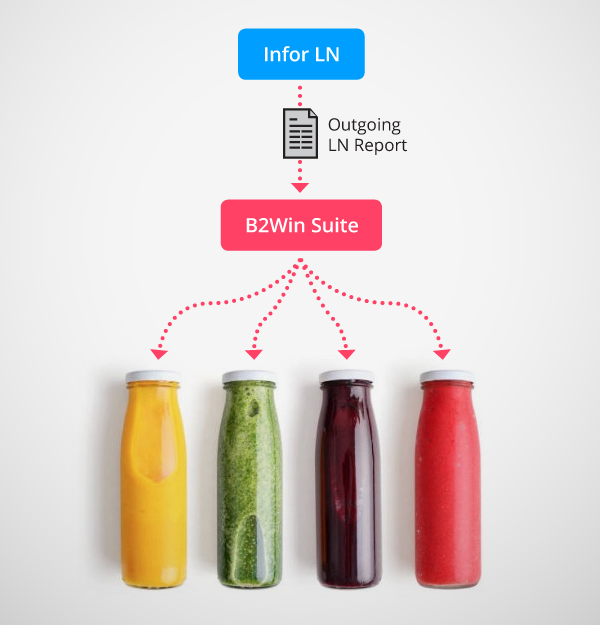 NAZDAQ's innovative solutions are simple yet very powerful. Right from Infor LN/Baan user interface, your financial and operational teams shall be able to enjoy the following benefits in a simple way and with just 1-Click.
More Efficient Financial and Operational Reports
Efficient reporting is the foundation of informed decision-making. NAZDAQ's solutions enable companies to automatically generate highly-structured Excel sheets with graphs and dashboards with only 1-Click right from their LN/Baan canned reports. This streamlined process eliminates the need for manual data extraction, scripting, and report preparation, empowering finance and operations teams to focus on analyzing critical data and making data-driven decisions without the burden of all the tedious and repetitive tasks associated with converting to Excel, which can sometimes lead to human errors.
Get More Out of Your Reports with Branding and Report Customization
Branding plays a pivotal role in reinforcing a company's identity and values. NAZDAQ's solutions empower enterprises to add branding elements to business documents, reflecting their brand's personality and professionalism with multi-company support.
Companies can also customize the layout, paper size, and formatting of reports according to their unique preferences. Furthermore, companies can enrich reports with free-text or values retrieved from a database, add images and barcodes to products, include signatures, and more, ensuring tailor-made reports that align with their business objectives.
More Efficient Distribution of Reports
Seamless and personalized report distribution is crucial for maintaining strong business relationships. NAZDAQ's solutions allow enterprises to personalize and mass-distribute business documents, such as purchase orders and invoices, to all their business partners. Reports can be delivered through preferred channels, including E-mail, fax, or print, ensuring that each partner receives information in their desired format and increasing overall efficiency.
Advanced Data Pipelines Integration and Automation
Data integration and automation are fundamental in modern business processes. NAZDAQ's solutions seamlessly integrate with B2Win Suite's advanced ETL data pipelines, automatically ingesting report data for further processing and analysis. This integration enables businesses to unlock deeper insights and gain a comprehensive view of their data, leading to more informed strategic decisions.
Conclusion
NAZDAQ's solutions empower enterprise companies using Infor LN/Baan ERP systems to get the most out of their native and standard reports. By providing efficient, branded, and customized reports, coupled with streamlined distribution and advanced data integration, NAZDAQ revolutionizes financial and operational reporting for businesses. Embrace NAZDAQ's innovative approach to reporting and harness the true potential of your native LN reports, giving your enterprise a competitive advantage in today's fast-paced business landscape.
FAQs
Q1: Can NAZDAQ's solutions seamlessly integrate with our existing ERP system?
Absolutely! NAZDAQ's solutions are designed to seamlessly integrate with Infor LN/Baan ERP systems, allowing for a smooth and efficient implementation process.
Q2: Can we automate report distribution to different partners?
Yes, NAZDAQ's solutions facilitate automated report distribution, allowing you to personalize and mass-distribute reports to various partners through preferred communication channels.
Q3: Is NAZDAQ's solution user-friendly and easy to implement?
Absolutely! NAZDAQ's solutions are designed with user-friendliness, ensuring easy implementation and adoption across the organization. NAZDAQ's experts will gladly walk you through the process from A to Z, including installation, initial configuration, and training.
Q4: How can I request a demo of NAZDAQ's solutions?
To experience the full potential of NAZDAQ's solutions, simply follow the link below to request a personalized 1-on-1 live demo and explore the comprehensive benefits that our solutions bring to your enterprise.