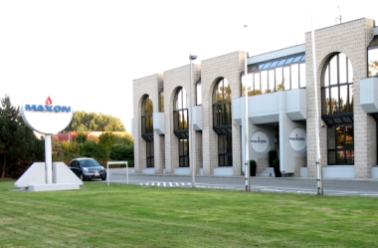 "The NAZDAQ's add-on utilities for Baan are user-friendly tools that make it a lot easier to retrieve data on the network. It also helps users a lot to send data by mail very quickly and easily to suppliers and customers."
Bruno De Graeve
Software Engineer at MAXON International
About MAXON
MAXON is a worldwide manufacturer of industrial combustion equipment such as gas burners, oil burners, valves, and combustion systems with manufacturing facilities in the United States, Europe, and Asia. With 54 worldwide locations. MAXON has been serving the global industrial heating industry with innovative and practical combustion systems, equipment and components since 1916.
MAXON has a unique approach to combustion blends durable, reliable products with the best technologies to provide clean, safe, and efficient heat.
What are the benefits you gained from using the product(s)?
The main benefits we gained from the product(s) are
Significant processing time saving
No need to printout purchase orders and invoices. These documents are sent to customers or suppliers by email or Fax using b2Mail-Merge.
Documents are archived automatically on the network
Documents are grouped together using the Append feature in b2Mail-Merge
How frequently does your company use NAZDAQ product(s)?
Currently, we have about 30 users working with b2Mail-Merge. Some of them use it on a daily basis. We will add more users in the coming months as our sales offices are planning to use b2Mail-Merge.
bHot-Link is used every day to display drawings and sales order documents from within the Baan sessions
What was the need that drove you to look beyond what Baan / ERP LN has to offer?
We needed a package for sending documents (sales invoices, sales reminders, purchase invoices, purchase reminders, sales order acknowledgments) by mail to suppliers and customers.
We also needed a package to open documents stored on the network from within Baan-session such as sales orders, drawings, purchase orders, sales quotations, and invoices.
What drove you to choose NAZDAQ product(s)?
A subcontractor that we work with, told us that he knew about a company in Brussels that is using products by NAZDAQ that do what we need. The products are b2MailMerge and bHot-link. We asked NAZDAQ for an operational demo version of these products. After using and testing the demo, we were sure they are the products we need and purchased permanent licenses.
Did the product(s) fulfill that need and how?
Yes, the products did fulfill our need. We are very satisfied with the two products. The purchase Orders are emailed to our suppliers and the invoices to our customers through b2Mail-Merge automatically and on time. With bHot-Link, it is easier and faster for our Baan users to manage documents within the Baan system without having to leave the Baan session.
The NAZDAQ software gave us the tools we need to create archive document management system on the network that became indispensable for the whole company to find history data easily and quickly.

Bruno De Graeve
Software Engineer
MAXON International
What are the benefits of having an active maintenance contract for the product(s)?
Having an active maintenance contract proved to be very beneficial as we get quick and timely solution for the problems or questions we have. AS well as free valuable upgrades of the software.
What is your satisfaction level from?
| | |
| --- | --- |
| The product(s) | Very Satisfied |
| The product installation/implementation | Satisfied |
| The service | Very Satisfied |
| Ease of using the product | User-Friendly |
Would our recommend NAZDAQ's tools to other companies?
Yes