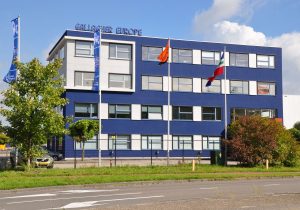 "b2Mail-Merge has helped us become more efficient and customer friendly; saving us time and giving the customer information on what they have ordered. This is all achieved for an acceptable price which is earned back quickly."
Lieneke Huinder, Application Manager
at Gallagher Europe
About Gallagher
Gallagher is the largest quality brand in electrical fencing and offers a first-class product at a good price-quality ratio as well as a first-class service.
Gallagher Europe is a commercial enterprise that was rooted in the '70s and started with the company Veldman & Dijkstra. Today Gallagher Europe, has branches in The Netherlands, Belgium, Germany, France, the United Kingdom, Austria, Switzerland, and Sweden.
How do Nazdaq products fit your IT Strategy?
One of our IT strategies is to improve our IT system users' efficiency and productivity to help them provide better service to our customers. NAZDAQ products have increased our efficiency, reduced our costs and enabled us to become more customer friendly.
What are the benefits you gained from using the product(s)?
The benefits we gained includes:
Increased efficiency: using email to send invoices instead of sending them by post.
Saving on the printing, handling, and postage of invoices to customers.
Better Customer support: We are now also more customer friendly.
Do NAZDAQ products provide value for money? What was the ROI period for this investment?
Definitely NAZDAQ'S products provide value and therefore we are implementing it throughout our sales offices in Europe, most of them are using NAZDAQ products now. An ROI of ½ year should be possible.
What was the need that drove you to look beyond what Baan / ERP LN has to offer?
BaanIV is limited in opportunities to email documents to customers. There is the option to store an email address in customer maintenance, but there is no standard Baan solution to use this email address for mailing documents directly out of Baan to, for example, customers.
Did you Check Competitors' Products?
Yes, we did check Hidox FormDesigner, but creating a report with this application is far more complex than b2Mail-Merge. Moreover, the price of Hidox is higher than b2Mail-Merge.
What drove you to choose NAZDAQ product(s)?
The ease of use (for example, creating a report is simple), the help that was provided when testing the product and the cost of the product. Furthermore, it is easy to use for end users.
Did the product(s) fulfill that need and how?
Yes, it did. With b2Mail-Merge we now send order acknowledgments to our customers. In addition, an order confirmation with the availability date of the products ordered is now sent to the customer directly after entering the order in Baan. Before we used b2Mail-Merge, this information was only available for the customer when receiving his order (on the packing slip)
What were the users' reactions after installing the product?
At first, there is the fear of the unknown, but once it is set up and users' see how it works they are very pleased with it
How frequently does your company use NAZDAQ product(s)?
We use b2Mail-Merge on a daily basis.
What is your satisfaction level from,
| | |
| --- | --- |
| The product(s) | Satisfied |
| The product installation/implementation | Very Satisfied |
| The service | Very Satisfied |
| Ease of using the product | Very User-Friendly |
Would you recommend NAZDAQ's tools to other companies?
Yes