---
Baan Hot Link 7.0 Release Notes
Baan Hot Link is Now Open
The new version of Baan Hot Link is now open and allows other applications to access the links for each entity. As an example, Baan Mail-Merge 7.0 is now capable of attaching all files, for all items, on a certain purchase order being emailed, faxed, printed or archived.
Automatically Create Subfolders
When a folder needs to be automatically created with Baan Hot Link, and this folder is located at a new directory that does not exist, Baan Hot Link will create all subfolders needed in order to create the folder in the nested directory.
Improvement with System Files Management
Files needed for Baan Hot Link are now organized in subfolders for easier access and problem solving.
---
Baan Hot Link 6.2 Release Notes
Text fields
If a text field is used as part of a link name, the corresponding first line from the text file is used.
Expanded the possibility of adding fields from a different table
A free SQL command is added to support more tables or have more static conditions
As an example, to search for datasheet of a certain item from with Maintain Item Data, from a specific manufacturer, it is not enough to join Maintain Item Data (tiitm001) and Maintain Alternative Item Codes (tiitm012). You also need to add a condition for the Alternative Code system (tiitm012.citt="MOT" for Motorola). This additional condition to the join statement is now supported.
In case bringing a field requires an SQL statement with more than 2 tables, this is now supported too with the extended SQL feature.
Deploying and Running dos applications made easier
Files added in $BSE/BHL6/settings/files2copy.dat will be copied with every run of BHL to the local BHL temporary directory.
Variable <local tmp>can be used in the mapping scheme to reflect the BHL local temporary directory.
To deploy a dos based application, the executable and related files need to be stored in $BSE/BHL6/settings and names added to copyfiles.dat. The mapping for this application needs to include <local tmp>>to reflect the directory where the files are copied, together with whatever parameters required.
---
Baan Hot Link 6.1 Release Notes
The new version of Baan Hot Link supports using Wildcards in mapping file names and folders. As an example, you can allow Baan Hot Link to link to folders like 234567-WIP and 123456-FLEX (Where WIP and FLEX could be any text).
---
bHot-Link 6.0 Release Notes
The new feature in this version is the possibility to add a "Hot Link" to any Baan session without doing any Baan customization. Using a newly developed program that will run in the background for all sessions, Baan buttons or custom made GIF files can be added to sessions without touching the Baan session. This new technology can also be used to easily add changeable images related to a record, like adding pictures of employees in Maintain Employees. These images can also be changeable and clickable into bHot-Link.
The following is an example for using the new technique for adding Hot-Links to Baan sessions.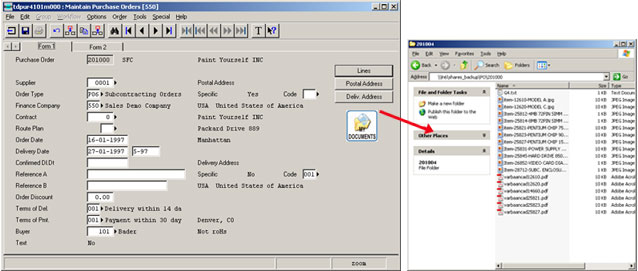 The following is an example for changeable images in a Baan session
Other new features and improvements include:
More filename parts added to the mapping session – to support longer names
Possibility to add a third "Join statement to the mapping scheme
Made the mapping session more user-friendly
---
bHot-Link 5.6 Release Notes
You can now print or email all or some of the linked documents from within the bHot-Link interface.
---
bHot-Link 5.5 Release Notes
bHot-Link allows now linking from Baan sessions to related Baan sessions.
---
bHot-Link 5.0 Release Notes
Adding the possibility to run a script after activating the link.
---
bHot-Link 4.0 Release Notes
A new look allows using icons within the session to make the Hot-Link menu more friendly
Link, detach or replace files stored locally or on the server
Detached and replaced files are saved in a "deleted folder" for tracking
Hot Link is built with Baan 3GL and does not include any domains or questions, therefore makes installation easier
Integrate bHot-Link with B2Email Plus 5.0. Email all linked documents in one click
---
bHot-Link 3.1
Make a Hot Link from Baan with 12 links (To be added to 1 and 4 link options)
Make a link with a secure PDF file from within bHot-Link. PDF file will viewed from within your browser with no possibility for the user to save it
---
bHot-Link 3.0 Release Notes – Additions
You can generate names based on some pre-defined logic and not only table names or part of them
You can generate names based on some pre-defined logic and not only field names or part of them:
Revision in Maintain Item Data

Company Number
User
Session name
---
bHot-Link 3.0 Release Notes
File name is generated from five parts, each part can be a variable or a constant.
Variables used in mapping can be a Baan field or parts of a Baan field.
Special characters in mapping can be replaced ( as an example slash instead of dash)
Ability to make different links for the same file without having to duplicate it.
Ability to detach files from the link – Delete links or files from within Baan (With proper permission)
You can define access levels for users to Create/Duplicate/Link/Detach or View files
Every action done through bHot-Link is recorded in a log file for more security
---
bHot-Link 2.5 Release Notes
File names can be generated based on tables different from the session's main table using forigen keys to different tables. As an example, File names which are populated based on any field from tiitm001 can be accessed from any other session where the Item is a foriegn key, like Purchase Order Lines, Production Order Lines and a lot more.
If you try to open a Hot Link and it does not exist, you can interactively copy a template file or duplicate an existing file.
---
bHot-Link 2.0 Release Notes
This new version of bHot-Link is now released in a new version with the following new features.
Run dos based command line applications from within your Baan Sessions using bHot-Link
Define different Hot Links per Baan company
According to one of our customers: "bHot-Link is changing the way we use Baan. The range of applications where Hotlink can be applied is only limited by our imagination".
Read this customer's Full testimony in Success Stories
---
bHot-Link 1.5 Release Notes
This new product from Nazdaq allows users to access files on the network from within Baan Maintain Sessions.
For example, while maintaining an item in Maintain Item Data you can access its AutoCAD drawing, Ms-Word Specifications, MS-Excel Costing Data and JPG photo, all in a click of a mouse.
This easy to configure product makes it easy to link any Baan entity with related files on the network. The product can be activated from any Baan Session, without touching the source code.