"It's absolutely a mandatory Add-On to Baan."
ULMA Construction uses NAZDAQ solutions for its Baan operation
An interview with Paloma Llompart, ULMA IT department (Technical Project Manager – BAAN system Administrator)
ULMA is one of the largest Business Groups in northern Spain, with a presence on the market spanning almost 50 years. It comprises of six cooperative companies and its activity pivots around eight strategic business units. ULMA manufactures and markets industrialized systems for construction
Q: Can you tell us a little about the IT department in your company?
A: There are 25 people in the IT area.  It's divided into System Networking & Communication, Application & Development, and Organization & Support.  The Baan team within the IT department has eight analysts/programmers.
Q: Which Baan version do you have installed?
A: We are running Baan IVc4 SP7 for application and SPT20 for Tools. We have 3 live servers and 1 test server. We have 267 user licenses for more than 1000 Baan users. We have users in several time zones so it's easy to share the license between all servers.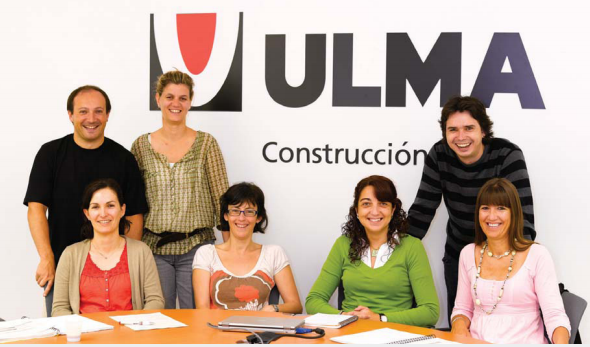 Q: When did you implement Baan? What is special about the Baan implementation in your company? Do you plan to upgrade to Infor ERP Ln?
A: Spanish Baan implementation started in 1997. The special feature about our implementation was that Baan doesn't cover Rental so we had to do huge customization. We have implemented Logistics, Manufacturing, Commercial, and Finance doing deep customizations in all of them but Finance.
We'd love to upgrade to Infor ERP Ln but not yet. We are facing the international deployment of Baan and have no time to analyze the upgrade of our functionality.
Q: Which of NAZDAQ tools are you currently using and in what capacity?
A: We acquired B2Email (Standard and Plus versions), B2Win, Baan Hot Link and Baan Color Changer:
Baan Color Changer is mainly used in Headquarters because our local users must work with 37 live Baan companies.  It helps to minimize or avoid mistakes when working with different companies and/or servers.
Baan Hot Link is used in the Spanish server but we will deploy it to the international servers soon.  Close to 50 mappings created. Its percentage of utilization is pretty high, mainly in our administration department.  For example, users can access costumers' or providers' scanned documentation from a BAAN session with just one click. 
B2Win is widely used. Probably, the most popular NAZDAQ tool in our company although I think we should increase its use. Close to 250 reports in several languages are configured with this tool. Excel and Acrobat outputs are commonly used.
B2Email Plus is mainly used in Headquarters too, but we use B2Email Standard version in other servers for doing internal notifications (logistics, technical). In Spain, we use B2Email Plus version combined with an Internet Fax Provider (Vodafone). Step by step we are replacing the use of traditional fax machines or fax servers by the use of FaxMail. For example, for faxing delivery notes directly from Baan.
Q: What was the status of your Baan environment before using NAZDAQ tools, and how did you perform your work?
A: We had to customize several reports to setup an appropriate layout for being opened from Excel application. We had absolutely no relation between Baan data and external documents. We used extensively faxes machines.
Q: Where did you see the need for NAZDAQ tools?
A: We first met NAZDAQ during our Baan deployment to our Portugal site. One Portuguese Baan consultant showed us the product and we could see how easy it was to format Baan reports in a most friendly look.  So we first met B2Win. The other NAZDAQ tools came after and we fell in love with Baan Hot Link. It was so easy to relate Baan records with external data that we couldn't believe it. It doesn't matter where you keep your documents. We even open documents that are stored in a MS SharePoint Server. We can link Baan data with practically anything outside BAAN.
Q: How do NAZADQ tools simplify your work?
A: Thanks to B2Win, we stopped customizing reports for our users. We taught key users to customize their reports and now they are responsible for setting them up for the rest of the users. Nobody is really aware that doing small customizations (like hiding a column or sorting data in a different way) to the Baan reports is a waste of time and a big effort for an already overloaded IT department.
Q: What were the users' reactions after NAZDAQ tools were installed?
A: Our users are each day happier with these tools. Our most advanced users are exploring every day the NAZDAQ tools possibilities. From the IT department, we are analyzing the new features of B2Win and B2Email versions. It brings some features that can improve some internal processes like exchanging information among our international sites.
Q: Based on your prior experience, how do you find the support given to you by NAZDAQ? Did you have any difficulties dealing with NAZDAQ?
A: We have no words to explain it. You can think that working with a provider that is located so far from your country can bring more difficulties to the relation, but that's not true. It's a successful long distance relation. Sometimes I think that they live permanently connected to their mail. As soon as you send an "SOS mail", they answer you despite the time difference.
Q: What do you think about NAZDAQ solutions in relation to its pricing?
A: It's a very profitable investment. We think it should be mandatory to buy these tools when acquiring Baan. They are absolutely a mandatory Add-Ons to Baan.
Q: What are the benefits of having an active maintenance contract with NAZDAQ?
A: We decided to sign the maintenance contract with NAZDAQ for several reasons but the most important are:
Possibility to upgrade to new versions with no cost.
High-quality support for any unexpected problem with the tools. The response is always fast, no matter how difficult it is to solve the situation.